The final week of Cybersecurity Awareness Month reminds us that you should always try to do your part and #BeCyberSmart—all year round.
What we do today can affect the future of personal, consumer, and business cybersecurity. Cybersecurity is increasingly becoming more of a consideration in how we work, learn, and play. Cybersecurity is a year-round effort and should be one of an organization's first consideration when creating or buying new devices and connected services.

How Can You Better Protect Yourself Online?
Secure your networks. Wireless routers are a way for cybercriminals to access online devices. Secure your Wi-Fi by changing the factory-set default router password and username.
If You Connect It, Protect It. One proven defense against intrusion is updating to the latest virus protection software. If you are putting something into your device, such as a USB or an external hard drive, make sure your device's security software scans it for viruses and malware.
Stay up to date. Keep software updated to the latest versions, and set security software to run regular scans. Secure your web browsers and operating systems by turning on automatic updates so you do not have to think about it.
Double your login protection. Enable multi-factor authentication (MFA) to ensure that the only person who has access to your account is you. MFA is an extra layer of protection for your accounts, often in the form of a text, email, or automated phone call received after you've entered your password to confirm that you are in fact you and it's not someone unauthorized trying to log into your account.
Password Tips
One of the first lines of defense on keeping your information safe online is the use of a password. Some password tips are as follows: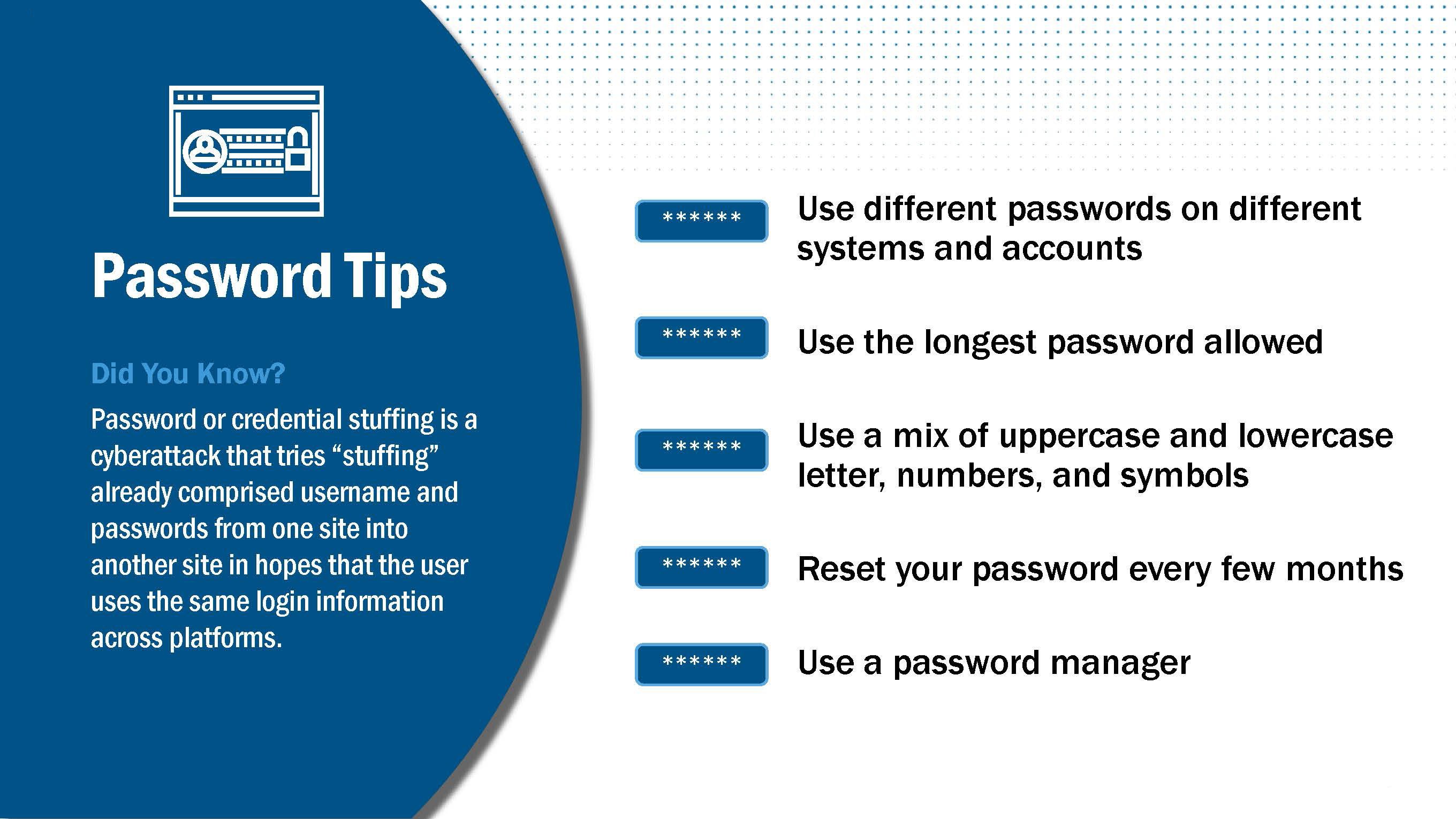 Use different passwords on different systems and accounts. One of the leading causes of unauthorized access to accounts is the reuse of login credentials (see did you know box).
Use the longest password allowed. The longer and more complicated a password is, the harder it will be for someone to access your accounts.
Use a mix of uppercase and lowercase letter, numbers, and symbols. Everyone has seen that many sites require this, and it's not there to inconvenience you, but to protect you and your data.
Reset your password every few months. It's good to get into the habit of resetting your passwords regularly, especially when these password allow access to important personal information such as bank accounts or medical data. It is also especially important given that it takes most companies an average of six and a half months to notice that a data breach has happened. By the time a data breach is reported, a bad actor could have been using and/or selling your data for a considerable amount of time.
Use a password manager. The most secure way to store all of your unique passwords is by using a password manager. With just one master password, a computer can generate and retrieve passwords for every account that you have – protecting your online information, including credit card numbers and their three-digit Card Verification Value (CVV) codes, answers to security questions, and more.
---
Download these "Be Cyber Smart" tip sheets and share throughout your community—with your friends, family, and coworkers. By doing so, we can all make huge strides in protecting our devices.
Why is Cybersecurity Important Tip Sheet (PDF)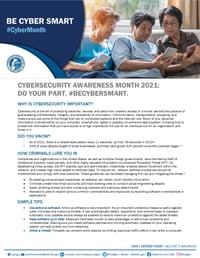 Cybersecurity is the art of protecting networks, devices, and data from unlawful access or criminal use and the practice of guaranteeing confidentiality, integrity, and availability of information. Communication, transportation, shopping, and medicine are just some of the things that rely on computers systems and the Internet now. Much of your personal information is stored either on your computer, smartphone, tablet or possibly on someone else's system. Knowing how to protect the information that you have stored is of high importance not just for an individual but for an organization and those in it.
Cybersecurity Starts with You Tip Sheet (PDF)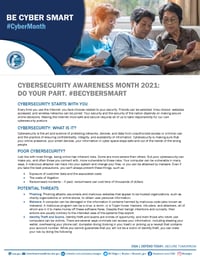 Every time you use the Internet, you face choices related to your security. Friends can be selected, links clicked, websites accessed, and wireless networks can be joined. Your security and the security of the nation depends on making secure online decisions. Making the Internet more safe and secure requires all of us to take responsibility for our own cybersecurity posture.
Approaching Cybersecurity Tip Sheet (PDF)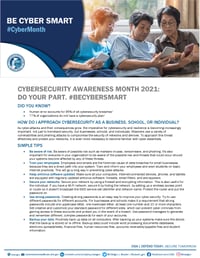 As cyber-attacks and their consequences grow, the imperative for cybersecurity and resilience is becoming increasingly important, not just to homeland security, but businesses, schools, and individuals. Attackers use a variety of vulnerabilities and phishing attacks to compromise the security of networks and devices. To approach this threat effectively and protect your networks, it is even more necessary to become familiar with cyber essentials.
Creating Passwords Tip Sheet (PDF)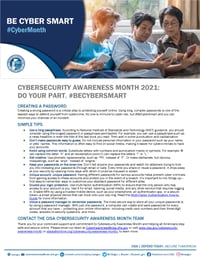 Creating a strong password is a critical step to protecting yourself online. Using long, complex passwords is one of the easiest ways to defend yourself from cybercrime. No one is immune to cyber risk, but #BeCyberSmart and you can minimize your chances of an incident.
About Cybersecurity Awareness Month
Every October, Cybersecurity Awareness Month continues to raise awareness about the importance of cybersecurity across our Nation. Led by the Cybersecurity and Infrastructure Security Agency (CISA) and the National Cybersecurity Alliance (NCSA), Cybersecurity Awareness Month shares messages and weekly themes of the importance of staying safe online. The theme - Do Your Part. #BeCyberSmart – encourages individuals and organizations to own their role in protecting their part of cyberspace, stressing personal accountability and the importance of taking proactive steps to enhance cybersecurity.
If you have more questions about how Members Choice Credit Union is getting involved in this year's Cybersecurity Awareness Month Campaign, please email us at cyber@mccu.com.