The third week of Cybersecurity Awareness Month is to help you explore to learn, or share, cybersecurity career options to be part of the workforce working to enhance security.
We join the National Initiative for Cybersecurity Education (NICE) to celebrate Cybersecurity Career Awareness Week. Whether it's students, veterans, or those seeking a career change, the cybersecurity field is in high-demand and continues to grow rapidly. This week illustrates how cybersecurity professionals play a vital role in global society and security and call attention to their contributions and innovations.
Cyber Career Pathways
The Cyber Career Pathways Tool is mobile device friendly and has new federal data to help you explore more career paths within the cyber workforce. The tool presents a new and interactive way to explore work roles within the NICE Workforce Framework for Cybersecurity.
It is designed for professionals looking to begin or advance their cyber career; employers and managers recruiting cyber talent, creating position descriptions, and guiding employees; and students and recent grads looking to identify work roles of interest and pursue training and certifications to prepare for a career in cybersecurity.
The Cyber Career Pathways Tool is developed and maintained in partnership with the Interagency Federal Cyber Career Pathways Working Group, led by CISA, the Department of Defense, and the Department of Veterans Affairs. The Cyber Career Pathways Tool is based on NIST Special Publication 800-181.
To learn more about the Cyber Career Pathways Tool go to: https://niccs.cisa.gov/workforce-development/cyber-career-pathways
Cyber Career Interviews
Calvin from General Dynamics Information Technology tells us what it's like to be a cybersecurity engineer, how he got where he is, and what the future of cybersecurity looks like.
Matt from General Dynamics Information Technology tells us what it's like to be an information assurance analyst, how he got where he is, and what the future of cybersecurity looks like.
Cybersecurity Career Awareness Resources (PDF)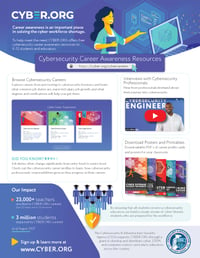 This week also showcases how building a global cybersecurity workforce enhances each nation's security and promotes economic prosperity. Career awareness is an important piece in solving the cyber workforce shortage. To help meet the need, CYBER.ORG offers free cybersecurity career awareness resources to K-12 students and educators. Explore careers from pen testing to cybersecurity forensics and learn what common job duties are, expected salary, job growth, and what degrees and certifications will help you get there.
Cybersecurity Workforce Training Guide (PDF)
The Cybersecurity Workforce Training Guide is for current and future federal, state, local, tribal, and territorial (SLTT) staff looking to expand their cybersecurity skills and career options. This Guide helps professionals develop a training plan based on their current skill level and desired career opportunities. With over 100 training resources and certification prep courses, CISA's new Guide can help cybersecurity professionals of all levels stay current and advance their careers.
About Cybersecurity Awareness Month
Every October, Cybersecurity Awareness Month continues to raise awareness about the importance of cybersecurity across our Nation. Led by the Cybersecurity and Infrastructure Security Agency (CISA) and the National Cybersecurity Alliance (NCSA), Cybersecurity Awareness Month shares messages and weekly themes of the importance of staying safe online. The theme - Do Your Part. #BeCyberSmart – encourages individuals and organizations to own their role in protecting their part of cyberspace, stressing personal accountability and the importance of taking proactive steps to enhance cybersecurity.
If you have more questions about how Members Choice Credit Union is getting involved in this year's Cybersecurity Awareness Month Campaign, please email us at cyber@mccu.com.