Five West Houston, Cy-Fair and Katy non-profits received donations from first annual "bowl for a cause" fundraiser event.
Katy, Texas (June 24, 2019) – The first annual Members Choice Credit Union "Cause-Mic" Bowl Event, held on June 15, 2019 at Bowlmor Lanes, was the area's largest cosmic bowling fundraiser, raising more than $17,000 for five West Houston, Cy-Fair and Katy, TX charities:
Citizens for Animal Protection
Cypress Assistance Ministries (CAM)
Katy Cares
Memorial Assistance Ministries (MAM)
Texas Children's Hospital
Joye Jackson, VP of strategic initiatives and programs, created the idea for the event, along with fundraising platform partner Reason2Race. Joye states that "This event started as a way to grow and expand our Members Choice CARES program and fulfill our commitment to Community, Action, Relationship, Empowerment and Service. As the first time for us to do an employee-led event of this magnitude, it exceeded our expectations and we're already planning on how we can grow the community impact even further for next year."
"Our team's fundraising success shows just how much a group of passionate people working together can accomplish big goals," said Randy Theilig, president and CEO at MCCU. "Every single person here is committed to supporting the community – it's something we already know internally – and I'm so grateful that this event gave others the opportunity to see that firsthand too. A key benefit of a peer-to-peer fundraiser is that you not only raise funds, but you also help use your voice to raise awareness for worthy causes."
To see more photos from the event, go to the photo gallery on the Members Choice Facebook page. You can also follow MCCU on Instagram, and Twitter.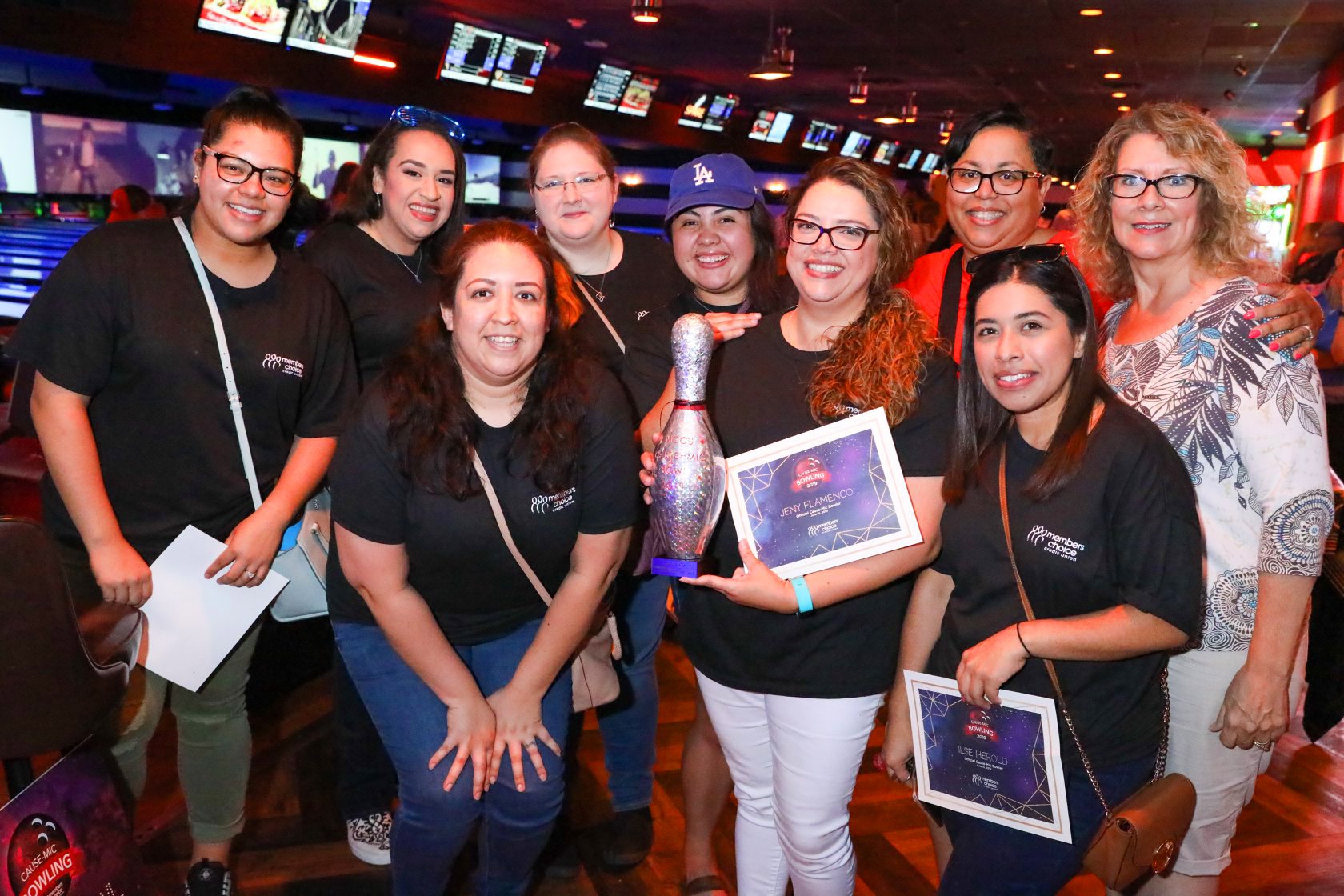 Photo: The Members Choice Credit Union Katy Cares bowling team, led by employee Jeny Flamenco, won the "top team" award for their ambassador efforts; shown here with charity representative Denise Mayfield, president and CEO of Katy Cares.
About Members Choice Credit Union
Members Choice Credit Union is a full-service financial institution based in Houston, Texas. It has been in business for over 78 years. The rich history is directly related to our financial stability and dedication to serving the needs of its members, first and foremost. Since its founding in 1941, the credit union has operated with the people-helping-people philosophy on which all credit unions are founded. For more information, visit www.mccu.com.
About Citizens For Animal Protection
Citizens for Animal Protection is a non-profit organization, founded in 1972, which shelters, rescues and places homeless animals for adoption with loving families. CAP advocates respect and compassion for animal life and provides humane education to help prevent cruelty to animals. CAP speaks for those who cannot speak for themselves through the following programs and services: Shelter & Care; Pet Adoption; Spaying & Neutering; Pet Care Counseling; Lost & Found Pets; Feral Cat Assistance Program; Pets for Seniors; Humane Education; and Pet Supply Shop. Learn more at http://www.cap4pets.org/.
About Cypress Assistance Ministries
Cypress Assistance Ministries (CAM) addresses the many issues that accompany the lack of financial resources, language barriers, and unemployment. Our mission of helping people in crisis move into self-sufficiency is accomplished through these programs: Client Assistance provides emergency financial assistance, primarily for rent and utilities; CAM's Food Pantry distributes food to over 10,000 people yearly plus delivers food and toiletries to senior citizens and disabled people with mobility issues; Operation Jobs provides one-on-one job counseling, resume preparation, interview preparation, and job leads, to help unemployed and underemployed people find permanent employment; GED classes are offered on a year-round basis; Four levels of ESL classes are provided on a year-round basis; Merriment at the Ministry is CAM's Christmas program, providing a generous distribution of toys to underprivileged children in the community along with food for their families; CAM's Back to School program ensures each child in the area starts school with their own backpack, school supplies, new underwear, and a pair of new shoes, along with a voucher to purchase clothing in Angels' Attic, CAM's resale store. Learn more at https://www.cypressassistance.org/.
About Katy Cares
Katy Cares is a 501(c)3 Non-Profit Organization founded as a solution-driven response to Katy's most vulnerable homeless population - women with children. We are not an emergency shelter, but do provide specialized therapeutic housing services to single mothers and their children affected by homelessness. Our home is a place for women to safely and purposefully work towards ensuring a stable future for themselves and their children. Our program entry is limited and only for those who are willing to work diligently for 6 months - 2 years toward complete self-sustainment. Learn more at http://katycares.org/.
About Memorial Assistance Ministries
MAM's mission is to assure families have the means to meet their basic needs. Last year, MAM helped over 27,000 individuals by offering a multitude of programs designed to teach, empower, and instill confidence. We know families who turn to us for help are resilient and have an extraordinary desire to make it on their own merits. MAM focuses on helping families build upon their own foundations and adds the education needed for them to regain their independence. They are armed with a renewed sense of confidence and the capacity to keep insecurities from becoming the norm. Programs such as Employment Services, Financial Education and Coaching, Adult Literacy, Immigration Legal Services and Mental Health Counseling will impact the lives of all who walk through our doors. Learn more at https://www.mamhouston.org.
About Texas Children's Hospital
Texas Children's Hospital, located in Houston, Texas, is a not-for-profit organization whose mission is to create a healthier future for children and women throughout our global community by leading in patient care, education and research. We are proud to be consistently ranked among the top children's hospitals in the nation. Texas Children's Hospital West Campus was created to respond to the growing need for expert pediatric health care in West Houston, one of the city's most rapidly growing communities. Learn more at https://www.texaschildrens.org.