We celebrated the official grand opening of our new Grand Parkway branch location, and the reception to the new branch has certainly exceeded expectations. We relocated the branch to offer more features to our members—features such as more parking, more space for teller transactions, more offices for loans and services, and adding safe deposit boxes.
On a beautiful Saturday in January, members were able to enjoy a delicious lunch from Jax Burgers, participate in some fun and games, and have a chance to win some of our fabulous door prize drawings. At 10am, when the doors opened, both new and long-term members of Members Choice quickly gathered to make the most of the day. During a few short hours, over 200 people attended and collectively celebrated the opening of this new branch.
"We had a door prize drawing every thirty minutes during the event, and we really loved seeing the enthusiasm from the crowd, especially those who got their numbers called and walked away with some very cool tech and cash prizes," said Gabriela Puente, marketing manager and organizer of the event. "Some were dancing to the DJ, and others got creative over at the kids' table. Seeing the smiles on their faces really made my day, and I'm so glad to see the collective excitement about the new location at our Grand Opening celebration."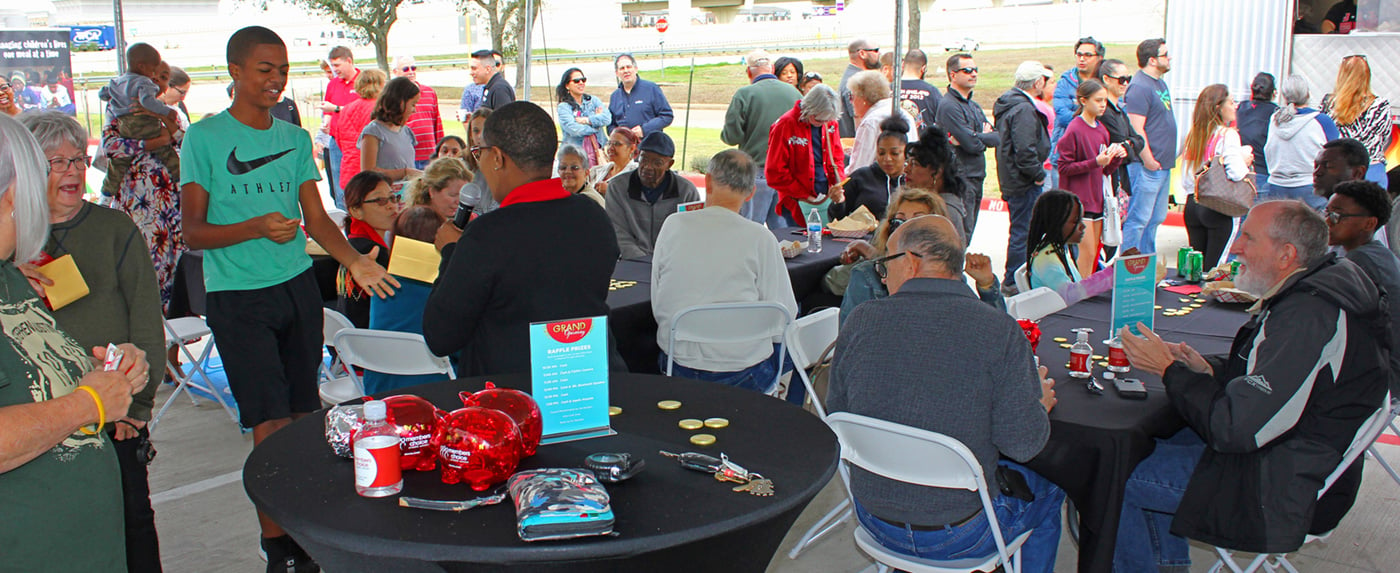 Debbie Long, branch manager at our
Eldridge Parkway branch
, and Mary Quinones, loan officer at our
North Fry branch
, spent the day helping kids decorate their own Members Choice piggy bank to take home. Debbie, also a mom herself, wanted to volunteer because she knows how important it is for kids to start good savings habits early. "We love it when parents come in to the branch to open student checking and savings accounts to start saving early, and to help their kids start to build a banking history for later." Both Debbie and Mary also shared that they love helping families, and welcome any and all to bring the family in to visit about a loan or account.
"I spoke to one member who had been with Members Choice over 22 years, and another that said we financed every one of her cars, including her very first one! Having a reliable car in Houston is so important, and I often think about how many others over the years that we've been able to help get their first, or even third, car. It makes the work we do just that much more rewarding." Robin Tooms, chief marketing officer, also added "Our great rates are an important benefit we provide back to our members, but it's more than that—it's knowing that we're part of people's lives and we're helping them do more with their money everyday. Also, people know us for how much we value our member-owners with great service, as well as supporting the community they live and work in."
"This branch is so popular with our members because of how conveniently located it is right off of the Grand Parkway. Granted, on that day we had many more visitors than a typical Saturday, and we were thrilled to see everyone have a such great time," said Katonya Jack, branch manager at the Grand Parkway branch. "For me, honestly every morning we open the doors feels like a grand opening. Being part of the Members Choice family, and part of this community feels like a gift and we're so happy to be here to serve our members."
See more photos on Facebook from the Grand Opening Event, the Katy Chamber Ribbon Cutting Event, and the Katy-Fulshear Rope Cutting Event.